The real Indian food prepared with happiness
The story behind What's up India

An Authentic Indian cuisine, where happiness and love form the basis
There was a Saint who everyone knows by the name of Sai Baba in a small village of Shirdi. It is located close to Mumbai – India.  According to the belief, he was an incarnation of God. With his humbleness, love for all the people and animals alike, he ruled the hearts. His followers and believers are in millions spread across the globe people from all walks of life and nationalities who believe in his teachings and visit Shirdi.
Shirdi was once a small village and today it is the biggest religious tourist destination of India. He would go door to door and begged for food and then distribute it to the needy and animals. Men believe that some days he would cook food in a big pot and would feed hundreds without the food finishing. He believed that serving food is a very Noble cause. When you prepare and serve it with happiness, the food becomes taster and healthier. We take Sai Baba's belief as our inspiration and serve our customers the real Indian food prepared with happiness.
Our slogan
What's Up India Tag line " We Serve Happiness " is a belief in the goodness and Legacy of such a noble sole. What's Up India is a blessing of Sai Baba and we take his legacy forward. In Shirdi, there is a statue of Sai Baba cooking in the pot, we took a photo of the statue and asked the graphic designers to make an outline of it and design it in our LOGO.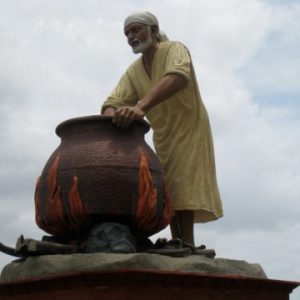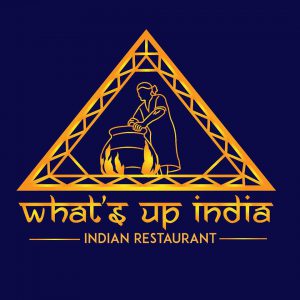 Our logo inspiration
The triangle symbolizes the strength and the power of Goodness and faith our logo has 43 triangles similar to Hindu Yantra, symbolizing equality and oneness from all angles. What's up India believes in the religion of humanity, that's why we are proud of the fact that we could adorn our logo from such a Noble Soul, with Faith, Love and Happiness forming the powerful triangle.
The Blue Background represents both the sky and the sea. We associate the blue background with imagination, inspiration, trust, loyalty, sincerity, wisdom, confidence, faith, heaven, and intelligence.
The color gold is the color of success, achievement and triumph associated with abundance and prosperity, luxury and quality, prestige, sophistication, value and elegance
We adore Sai Baba in our Logo with pride and respect. It took us months to create it. The day our logo was ready, miracles happened. Therefore, It holds a very special in our heart and we are proud that we have Sai's blessings in it.
We hereby invite you to come to our restaurant and enjoy the  tasty authentic Indian food with a beautiful ambiance. Additionally, Our menu is extensive and with a unique addition of Indo Chinese Dishes would make you keep coming back to us. Do not hessitate to  reserve a table for an unforgetable authentic Indian food made with love and happiness.
Personal experience
I myself got connected with Sai Baba and his teachings in 2006 and since then I have surrendered to him with all my heart and soul, life has changed the day I visited Shirdi. Sai has taken care of me in the most hardest times, some would have broken down but he guided me and gave me strength to look into the eye of the storm without fear.
What's Up India is Sai Baba's blessings and We Would Like To Share This Happiness With Everyone.

His Miracles are endless only need to have trust in Sai.
owner :Dinesh Lalwani.